Knowing how to irrigate in the investment world
Alongside Mekorot's business-technology strategy is our vast knowledge of water. We are the early adaptors installing innovative water technologies. On the basis of our professional knowhow and technological leadership, we make joint smart and high-quality investments in a range of water sectors with business partners around the world, with the objective of realizing the incredible business potential in irreplaceable water resources that are needed for life and the future of humanity.
Artificial Intelligence
25 million data bits per day. A gold mine for the water industry!
One of our trademarks is the integration of management and technological leadership, which enables us to further revolutionize the operational optimality in the water economy by developing an innovative infrastructure for integrative control of the supply of all types of water in the water economy.
This innovative infrastructure will give us greater integrative capability in the management of command and control centers for the remote real-time control of 3,000 installations, 1,000 wells, 700 pumping stations, and 13,000 km of pipelines. We generate more than 25 million bits of data every day – a gold mine for analytics and the implementation of machine learning and artificial intelligence. 
This innovative infrastructure will include the latest command and control technologies and high-speed accurate data communications for maximum control through simple and flexible data gathering and full command of the water supply processes, while offering an advanced response for water quality monitoring, water protection, and backup systems for Disaster Recovery Planning (DRP).
Technological developments will add and support our holistic management concept, the purpose of which is to continue strengthening the stability of the local water economy against the threats of climate change and accelerating global warming. They will set standards that have been seen in the water economy and coordinate and synchronize all control rooms for the optimal utilization of water resources, improve the quality of the water supplied, and save energy, disinfecting, and other costs.
 Even these proven world-class operational achievements, such as the 3% water loss rate and 1.5% annual energy streamlining, we continue to further tap the potential of the world of technology and data science to maximize the water supply in this especially challenging and complex era.

Leading innovation and technological creativity in response to the company's range of activities and challenges in competitive conditions while demonstrating daring flexibility and originality.

Detection and examination of advanced technologies and improvements to processes in the command and control system
Digital – development and leadership of the digital field in the company while connecting the command and control system for the benefit of the end user at the field level and at the management level

Creating uniformity in command and control processes throughout the organization by defining standards and work processes.
Initiation and leadership of national projects including replacement and upgrade of the water supply management cave – Scada.

Correct specifications and administrative standardization in the field of command, control and water security.
Initiating and leading R&D processes in collaboration with leading technology bodies in the industry

Assimilation of technological tools for managing and controlling the core business of Mekorot – water supply.

Lead the field of command and control and the company operational system

To be a single focus for all the engineering processes in the world of command and control. To be policy makers, pioneers and a supporting body for command and control activities for all company employees
Information systems
We operate the most advanced information systems in the world
Smart advanced information systems are the foundation of our core processes at the management, operational, and business echelons. With the help of these systems, end-to-end management processes and built-in standardization of the fast, efficient, and secure information flow will achieve three key goals:
Sophisticated business decision-making

Water systems operational streamlining

Constant performance improvement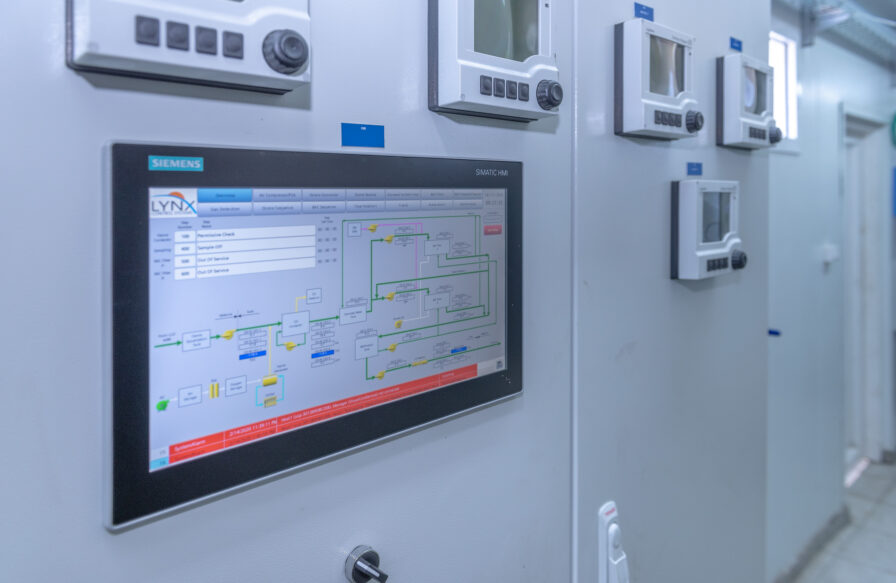 Mekorot's unique developments in information systems include
A SAP system that integrates specialized modules, such as ISU for management of the water supply and water bill, PPM for the management of open software and complex projects, and GRC for risk management, governance, and access control

Computer and applied mobile apps, with an emphasis on water supply, maintenance, and development, as well as mobile work capabilities, everywhere and all the time.

An advanced Business Intelligence (BI) array that includes dashboards in a range of operational fields.

 A Moodle-based online learning system for effective remote learning under all conditions, such as during the COVID-19 pandemic, to reduce health risks, achieve substantial financial savings, and for steady employee empowerment and professional enrichment. 

Advanced software infrastructures, including characterization, documentation, validation, and organizational platforms.

Specialized tools and procedures for information security and routine operations.
Mekorot has its finger on the pulse of the water economy, but we also have our finger of the pulse of technology for advanced management of the water economy.
Information management
Work smart, decide smart
In the contemporary technological and organizational reality, information management is a critical resource, with a broad impact on all business and professional operations. Recognizing its importance as a core resource, we have installed advanced IT and OT for a digital transformation of processes. As we say, "Smart workers, smart deciders."
In Mekorot's digital work environment, our information flows quickly, smoothly, and securely in order to make optimal decisions across a wide range of operations. In this environment, we're also switching to an online paperless workplace, while ensuring that our information infrastructures are protected against cyber and other attacks. 
Advanced information management, based on standardized online processes, offers us business continuity, sophisticated risk management, effective decision-making, data loss prevention, and enhanced communications between different parties. There are also significant advantages, such as operational streamlining, shorter execution times, and substantial savings in organization resources.

To be a policy setter, a source of knowledge and a professional facilitator for all cyber factors in the company

Be a single and exclusive center of knowledge

Lead an integrative protection concept against the potential risks in cyberspace

Promoting innovation
Lead an integrative protection concept against the potential risks in cyberspace
Guaranteeing maximum cyber protection
The SCADADome technology that Mekorot are developing is based on VDAMP methodology will position us at the technology spearhead against cyber attacks
In the advanced water market, we are leading an advanced cyber concept to ensure maximum protection of the water infrastructures, which are critical for agricultural and our very existence.
Committed to saving energy
Because water production and transportation require a lot of energy, Mekorot has developed smart energy-saving solutions, which support our business perspective, and help reduce our power consumption by 1.5% a year. This impressive figure is considered a world-class achievement in the water industry, worth hundreds of millions of shekels a year.
Mekorot's energy streamlining operations include
Advanced mathematical models to adjust water systems operations to off-peak power times (summer nights/winter days)

Increase water pooling for maximum utilization of off-peak power times

Convert ultra high-voltage power to high voltage for the operation of pumps and very large motors

Real-time computerized planning models with an annual outlook, including for treated wastewater plants

Integration of hydrologic tools and simulators in pressure design and control

Upgrade pumping equipment for high volume operations

Map and separate pressure areas